Posted In Conservation | 7th November 2023
Dublin Zoo Launches National Centre for Species Survival in Historic Society House
Dublin Zoo held a ceremony to celebrate the launch of the new National Centre for Species Survival, an official partnership between Dublin Zoo and the International Union for Conservation of Nature (IUCN) Species Survival Commission (SSC). The Centre, the latest in a growing global network all working to drive action to protect wildlife, will act as a hub for species conservation efforts in Ireland and around the world, and is situated in the newly renovated Society House, a building dating back to 1868.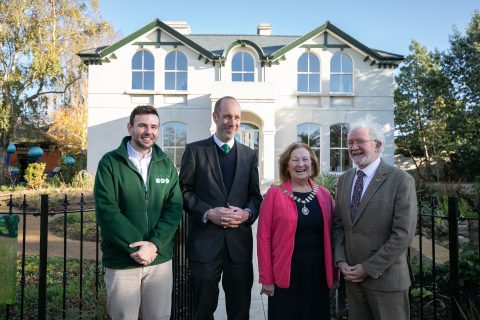 The National Centre for Species Survival gives Dublin Zoo the capacity for native species conservation assessments, conservation planning and action. A particular focus of this Centre will be the conservation of native Irish wildlife, complementing Dublin Zoo's work with current conservation partners in Ireland; such as Bat Rehabilitation Ireland and the Irish Peatland Conservation Council.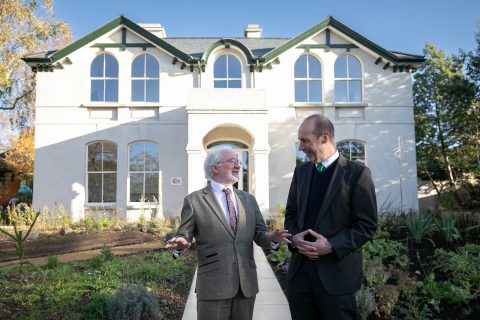 Dublin Zoo's Conservation and Science team will collaborate with key stakeholders, including government bodies, academia, local communities and the aforementioned Dublin Zoo's Irish conservation partners, on projects to protect and save species.
The Centre can be found in Society House at Dublin Zoo. Built in 1868 as a home for Dublin Zoo superintendent Edward Carter, Society House was home for all superintendents (later to be called directors) of Dublin Zoo until 2020. In the 19th century, the Royal Zoological Society of Ireland used the parlour for breakfast meetings where scientists, artists and VIPs gathered for discussions. Until the mid-twentieth century, when on-site veterinary facilities were developed, Society House was an informal veterinary hospital for young, sick or delicate animals. In 1959, superintendent Terry Murphy successfully hand-reared two tiger cubs, Buster and Not-So-Good, in Society House, both of which became celebrated animals at the Zoo. The building has been completely renovated over the last twelve months, part-funded by the Irish Government through the Office of Public Works (OPW).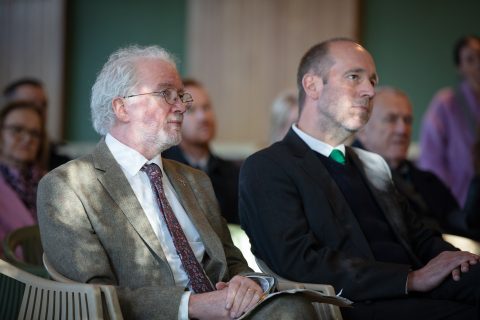 Upon officially reopening Society House today, Malcolm Noonan TD, Minister of State for Nature, Heritage and Electoral Reform welcomed the building's new function:
"It's wonderful to see such an historic building be reimagined in a way that looks to the future. The conservation of Irish species is vital and the work that will be done in the National Centre for Species Survival will play a major role in preserving our natural heritage."
Director of Dublin Zoo, Dr Christoph Schwitzer said:
"This opening is a very important move towards achieving a key objective of Dublin Zoo's ten year vision 'to save wildlife in Ireland and globally'. Dublin Zoo's goal is to become a national focal point for species conservation status assessment and planning, influencing policy development globally to create a world where people live in harmony with nature.

Society House has played a central role in the history of Dublin Zoo for over 150 years, and the establishment of the Centre for Species Survival, one of 18 such Centres in the world, ensures that it will be integral to the future of Dublin Zoo and to wider conservation efforts in Ireland and further afield. We're grateful for the support of the Irish Government through the Office of Public Works in helping us realise our ambition of completely renovating and repurposing the building and opening this Centre, and our team is excited to get to work."
Jon Paul Rodríguez, Chair of the IUCN Species Survival Commission said:
"The Centre for Species Survival at Dublin Zoo is an important step towards securing a future for wildlife, wild places and people in Ireland and globally. Conservation is effective, but we need a collaborative approach and we hope this new Centre in Dublin Zoo will inspire other organisations worldwide to join our efforts."