Posted In Visitors | 25th May 2022
Gardening for Gorillas By Stephen Butler
The life of a zoo horticulturalist is no monkey business!
Gardening for Gorillas leads the reader down a densely planted path as Dublin Zoo transforms from its almost Victorian appearance to one of the world's leading zoos and most popular visitor attractions which it is today.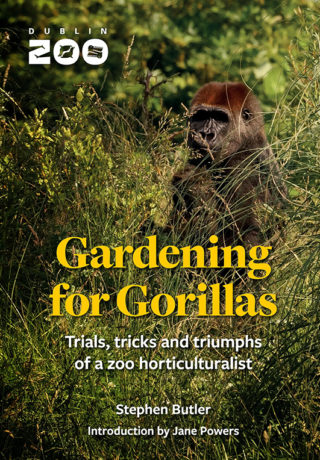 Stephen Butler was fortunate during his 37 years of horticultural stewardship to be there to help usher out one era and commence another, with a progressive masterplan focusing on animal welfare and themed habitats that reflected the spirit of the animals' natural homelands. Plants were instrumental in achieving this, from a visitors' viewpoint, but primarily as animals also benefit from a well planted habitat, shade, shelter, and natural enrichment, which all make for improved health and wellbeing.
Every habitat saw specific and often unique challenges, especially when the work was near water. Stories of animal interactions with the plants, and insights into the creative thinking well beyond the scope of normal horticultural endeavours, make Gardening for Gorillas an entertaining read.
Native flora and fauna are included too, as dense naturalistic planting encourages insects and birds. Stephen's all-consuming passion to get the plants to grow well, to accomplish the natural look, to achieve a better habitat for the animals, comes across on every page.
Gardening for Gorillas is more than just a gardening book, however. The last chapter details many educational stories about plants, their names, their history, their origins, or their interesting and unusual botanical points, in particular any animal connections. There is something for everyone on these pages, irrespective of their gardening expertise.
Gardening for Gorillas is available from the Dublin Zoo Gift Shop and online via the Dublin Zoo Zootique online shop for €35 plus postage. For orders outside of Ireland, please visit www.gardeningforgorillas.com.