Posted In Careers | 5th September 2019
How to Become a Zookeeper
So, you want to be a zookeeper?
The work of a zookeeper is very rewarding. However, it is also very physical and requires a lot of different skills and qualifications. Here are some tips to consider if you want to be a zookeeper.
Daily tasks
Zookeepers have very busy days. Working in a zoo is a hard job and the hours can be long! A zookeeper provides daily care for animals, including cleaning habitats, preparing feeds, providing water and bedding, etc.
This work can be very physical and is often dirty and smelly! They also have to keep daily records of the animals' health, diet and behaviour. Zookeepers also have to be good communicators and many are required to talk to visitors as part of their job.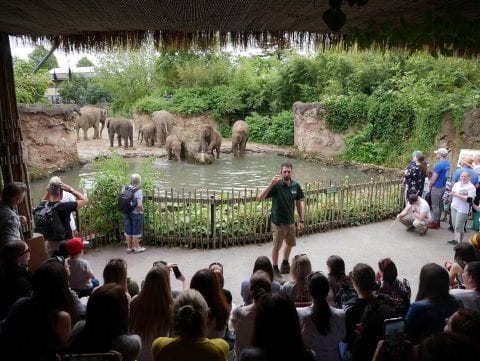 How to become a zookeeper
There are many people who want to work with animals, so there is a lot of competition for jobs. The more experience and qualifications you can get, the better. If you are interested in becoming a keeper, there are several ways to go about it.
One route is to earn a degree in zoology. However, this isn't essential. All Dublin Zoo keepers have the Zoo Animal Management Qualification.
The websites of the European Association of Zoos and Aquaria (EAZA) and the World Association of Zoos and Aquariums (WAZA), which Dublin Zoo are members of, make very interesting reading: www.waza.org and www.eaza.net.