Posted In Education | 7th June 2023
Minister O'Gorman launches Dublin Zoo's new Conservation Education Master Plan
Minister for Children, Equality, Disability, Integration and Youth Roderic O'Gorman TD has officially launched Dublin Zoo's first ever Conservation Education Master Plan, which is aimed at cultivating the next generation of conservationists to help achieve Dublin Zoo's mission to save wildlife.
The plan prioritises increasing conservation education opportunities for learners from a variety of socioeconomic backgrounds and those with additional needs, as well as creating a Youth Board or work placement opportunities to engage teenagers and young adults in conservation education.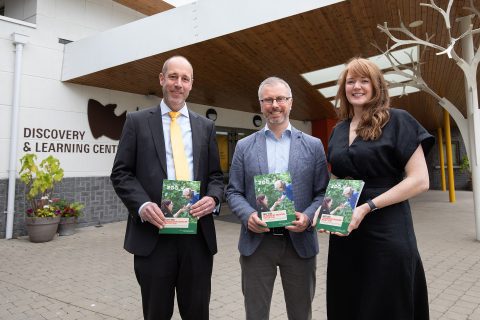 From left to right: Dr Christoph Schwitzer, Roderic O'Gorman TD and Aileen Tennant
The Plan, which sits under the overall 'Dublin Zoo 200: Vision 2021-2031,' includes 8 commitments to best practice in conservation education, all of which align with the United Nations Sustainable Development Goals:
1. Building a culture of conservation and STEM education
2. Embedding multiple purposes of conservation education
3. Promoting conservation education for all
4. Being innovative and transformational in conservation education
5. Developing conservation education techniques that demonstrate a respect for animals and Dublin Zoo's high standards of welfare
6. Prioritising optimistic and solution-based conservation and sustainability education
7. Supporting the Dublin Zoo Discovery & Learning Team in Professional Development and Training
8. Strengthening the evidence for the conservation education value of zoos and aquaria.
We are living through a period of unprecedented biodiversity loss and accelerated climate change, and Dublin Zoo is committed to embedding the practice of conservation in all that it does, in turn providing conservation education opportunities to people of all ages and backgrounds in order to help support a healthy global ecosystem.
Dublin Zoo's ambitious conservation work must be amplified across society in order to make a positive change for habitats and wildlife globally. With a visitation of over one million people per year, and over 60,000 of these arriving in learner groups, Dublin Zoo is in a strong position to harness the opportunity for the Irish public to join it on its conservation journey.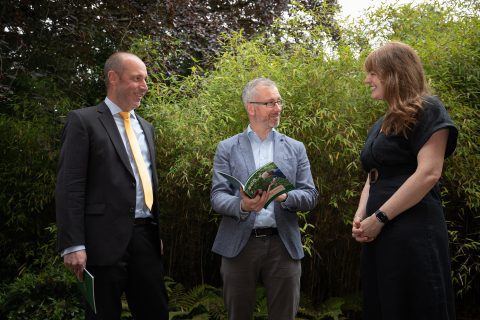 Speaking at the launch of the Conservation Education Master Plan, Minister O'Gorman said;
"I'm delighted to launch Dublin Zoo's new Conservation Education Master Plan. Dublin Zoo is an important resource for educating people about wildlife and what we can all do to help wildlife in Ireland and across the globe, so it's wonderful to see the plans the zoo has to build on this via their new Education Master Plan.

"I'm excited to see the ways in which this plan delivers on Dublin Zoo's ambitions to engage not only school groups but wider audiences including youth and young adults, as well as offering conservation education opportunities to those from differing socioeconomic backgrounds and to people with additional needs."
Dr Christoph Schwitzer, Director of Dublin Zoo, said:
"The Conservation Education Master Plan is another vital step towards achieving the objectives of the 'Dublin Zoo 200' strategic vision, as we look to become a zoo-based conservation organisation of national and global significance. Everyone can play a role in conservation, and this new plan outlines how Dublin Zoo can help educate a wide range of learners while cultivating the next generation of conservationists."
Aileen Tennant, Head of Discovery and Learning at Dublin Zoo, added:
"Education has long been a key focus of Dublin Zoo, going all the way back to the formation of the Zoological Society of Ireland in 1830. The definition and priorities of education have changed greatly over the past almost two centuries, and given the threats faced by our planet due to climate change, the focus is ever more on Conservation Education – looking at humans and the social changes we must make to support the conservation of biodiversity."The Conservation Education Master Plan covers learners of all ages and backgrounds with the aim of achieving significant conservation impact in the coming years as Dublin Zoo nears its bicentennial anniversary."
To read Dublin Zoo's Conservation Education Master Plan, please click here.