Posted In Conservation | 23rd May 2023
Dublin Zoo Joins Forces with Bat Rehabilitation Ireland to Protect Ireland's Bats
Dublin Zoo is proud to now be partnering with Bat Rehabilitation Ireland to help conserve and protect Ireland's bats.
Bat Rehabilitation Ireland, a registered charity, is Ireland's largest bat rescue facility, caring for almost 1,500 bats from across the country since opening in 2019. Their mission is to rescue, rehabilitate and release all species of Irish bats, whilst promoting bat conservation through education and scientific research.
Ireland has nine species of bat which are considered residents, these include common species such as the soprano pipistrelle and those less common such as the lesser horseshoe bat. All Irish bats, and their roosts, are protected under both national and EU legislation, as they are increasingly threatened by habitat loss, human disturbance, and the use of pesticides in agriculture.
Last December, the organisation rescued a common pipistrelle at Dublin Zoo. Over the winter and spring months, the bat, nicknamed 'Noel', received round the clock care from Susan Kerwin, founder of Bat Rehabilitation Ireland, at her bat hospital in Co Limerick and in May of this year, they were strong enough to be released back into the wild. Common pipistrelles are just one of several bat species which call Dublin Zoo their home. The two large lakes at Dublin Zoo provide the perfect feeding grounds for bats, allowing them to use their echolocation to locate insects.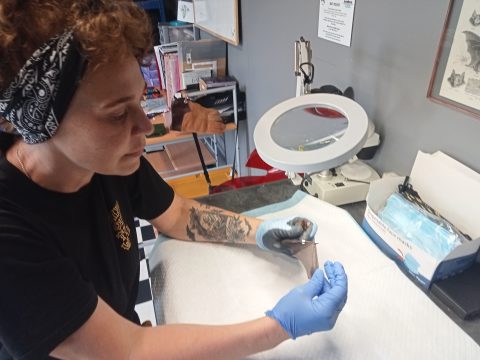 Commenting on this new partnership, Susan Kerwin, Founder at Bat Rehabilitation Ireland said:
'We are delighted that our project has been acknowledged by Dublin Zoo as one of their conservation partners. The support we have received from Dublin Zoo will help us to continue our work to help rehabilitate and study the Irish bat population.'
Dr. Andrew Mooney, Conservation and Research Officer at Dublin Zoo commented:
'We are very excited to expand our conservation work to support Ireland's bats, an understudied and often overlooked group of species. Bats make up around one quarter of Ireland's mammal species, yet few people know anything about them. The work of Bat Rehabilitation Ireland is instrumental in shifting our understanding of, and appreciation for, Ireland's bats, and Dublin Zoo is very proud to support their work.'
Dublin Zoo's support for Bat Rehabilitation Ireland will help them continue their work rehabilitating and studying Ireland's bat populations. Since 2009, Dublin Zoo has spent more than €1.25 million on conservation and research activities, supporting ongoing work by BirdWatch Ireland and the Irish Peatland Conservation Council, among others.
To learn more about Dublin Zoo's conservation work, check out our projects here.
For more information about Bat Rehabilitation Ireland, check out their website or Facebook page.