Posted In Animals, Conservation | 28th September 2020
RTÉ's 'The Zoo' TV Series Returns for Season 10
It's been a jam-packed year for the zookeepers in Dublin Zoo, tune in to see their adventures from the Phoenix Park to Tunisia!
Animal lovers rejoice as 'The Zoo' TV series returns to screens this Sunday, 4th October on RTÉ One for its tenth season giving viewers an exclusive behind the scenes look at Dublin Zoo, all from the comfort of your own home! The series showcases life at Dublin Zoo allowing viewers to really get to know the animals who live there as well as the dedicated team of zookeepers and staff. 'The Zoo' is perfect Sunday night family viewing, suitable for young and old alike.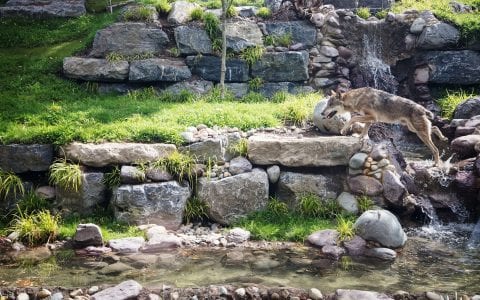 Wolves in the Woods habitat
Viewers will be glued to their screens as they follow Dublin Zoo's most exciting stories from the last year. These include moments of joy with multiple new births, a trip to Tunisia, the unveiling of the Wolves in the Woods habitat, some concerning health matters and everything in between.
'The Zoo', now in its tenth season, will once again be sponsored by Ireland's largest supplier of 100% green energy and Official Sustainability Partner to Dublin Zoo, SSE Airtricity.
Leanne Sheill, Sponsorship Manager for SSE Airtricity said: "We are very excited to be back sponsoring another great season of 'The Zoo' on RTÉ One. We were blown away by the last season and we can't wait to see what adventures the animals and the zookeepers have had over the last year! As Ireland's largest provider of renewable energy, and proud Sustainability Partner to the zoo, everyone at SSE Airtricity understands the importance of what the team at Dublin Zoo is doing and the role sustainable practices have in helping to conserve wildlife habitats.  Together, we hope to promote sustainability and show that small changes can make a big difference to help protect our beautiful planet and the many species we share it with."
One of the many incredible stories sure to inspire viewers this season includes keeper Brendan Walsh. He travels to Tunisia, North Africa for a special conservation project aimed at saving the beautiful scimitar-horned oryx from extinction. Conservation is at the very core of Dublin Zoo's work, and each series sees a zookeeper travel overseas to take part in conservation projects worldwide, which are supported by Dublin Zoo.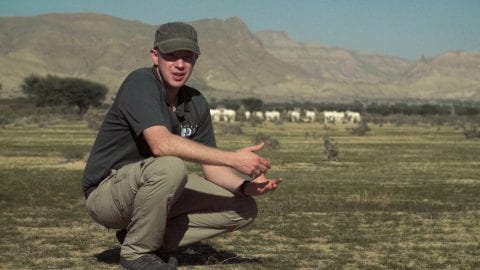 Keeper Brendan Walsh with a herd of oryx in Tunisia
Over the course of his trip, Brendan visits four of Tunisia's national parks with his guide, field biologist and veterinarian Marie Petretto. Marie comes prepared to tackle the many challenges that come with life in the wilderness, including animal tracking and field surgery. The latter comes in very useful as Marie, Brendan and park rangers need to act quickly to save a male scimitar-horned oryx, and viewers of 'The Zoo' will be there every step of the way.
Back in the Phoenix Park, the zoo rejoices as The Gorilla Rainforest welcomes a new addition to the growing troop. Viewers will be able to tune in and witness Vana giving birth and adapting to daily life with a curious new baby by her side. Dad Bangui's journey and transition into fatherhood makes for equally compelling viewing, and with a little parenting training from the zookeepers as well as the larger gorilla troop, he learns to adapt to his new role.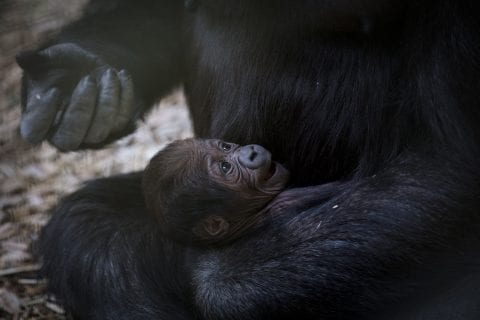 Vana and son, Kivuli
Water plays an extremely important role in the social life of Asian elephants, and on sunny days there's nothing they love more than cooling off in their pool at the Kaziranga Forest Trail. Viewers will be left smiling after witnessing the pure joy the elephants express splashing and playing in the water.
Meanwhile, the zoo team prepare to part ways with Zuko, the southern white rhino calf. Getting bigger and stronger each day, the time has come for Zuko to move on to a new herd. Viewers are brought along for the journey as the keepers get Zuko ready for this big change through a special training regime and eventually have to say an emotional goodbye to the calf.
The animal care team are faced with some tough challenges throughout the series and it's all hands-on deck when Pia, the western chimpanzee falls gravely ill, needing urgent veterinary assistance.
Kitabu, Dublin Zoo's resident male Okapi is introduced to new female mate Lumara. Okapis are an endangered species from the remote rainforests in the Democratic Republic of Congo. They are an incredibly shy and introverted species so the zoo team need to keep a watchful eye on Kitabu and Lumara to see how they will get along together.
There is great excitement in Dublin Zoo as the new Wolves in the Woods habitat is unveiled. Viewers will see how the wolf pack settle into their new surroundings and learn to adapt to their incredible new home. Meanwhile, Cahaya the siamang gibbon is in need of an emergency blood transfusion. Running out of time and options the veterinary team turn to her mate Luca to see if he is a match.
Other animals featured this season include Rothschild's giraffes, white-faced sakis, Goeldi's monkeys, Bornean orangutans and snow leopards, amongst many other incredible animals!
Don't miss episode one this coming Sunday, October 4th at 19.30 on RTÉ One.
Check out our social media pages for some competitions which will be running alongside the episodes!