Posted In Conservation | 16th February 2017
Leading a Modern Zoo
There is absolutely no room in this world for zoos with substandard practices and poor consideration for animal wellness. Poorly managed zoos do not contribute to the genuine conservation effort and tarnish the reputation of all zoos. Nobody criticises or condemns them more strongly than those of us that are part of the zoo community.
A modern world class zoo is required to fulfil a number of responsibilities including animal care to the highest standard, education, recreation and conservation.
A modern zoo is no longer a Victorian-era caged attraction for the well-heeled paying public, but a place that has enormous potential to contribute positively to visitor awareness of the living world and to inspire hope and action from our visitors.  An extraordinary 66,000 students passed through the Dublin Zoo gates last year to attend specifically created education programmes.
As the Director of Dublin Zoo, I am proud to be at the helm of a world class zoo and a highly motivated and experienced team that leads the way in supporting and promoting the conservation of animals and their habitats.
At Dublin Zoo we create habitats for the animals which are inspired by the wild and enable the animals to live in proper social groupings, to breed and to raise their young.  These carefully designed zoo habitats, which allow the animals to behave much as their wild counterparts do, are protecting some of the world's most endangered species.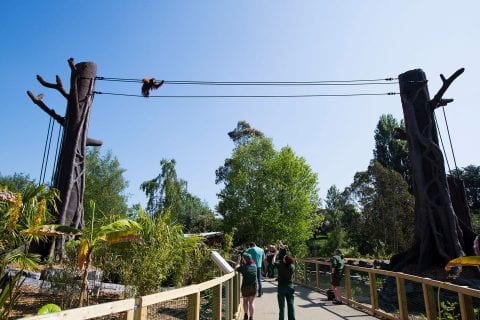 Ensuring every animal lives out its life to the full is paramount to Dublin Zoo. At Dublin Zoo we treat animals with the utmost respect, they are sentient beings that deserve the very best care.
Dublin Zoo is subject to stringent inspections by the National Parks and Wildlife Service every year and our team works tirelessly to not only meet but exceed the requirements.
Dublin Zoo is so much more than bricks and mortar, we are involved in 26 conservation projects worldwide.
Our keepers have recently travelled to Zimbabwe and witnessed first-hand the battle to save southern white rhinoceros from extinction. They have gone deep into the swamps and rainforests of the Republic of the Congo to help protect forest elephants and western lowland gorillas.
Since 2013 Dublin Zoo has financially supported the reintroduction programme for the scimitar-horned oryx in Tunisia and for the last 17 years Dublin Zoo and other zoos have financially supported the conservation of the golden lion tamarin, a small primate in Brazil.
Closer to home Dublin Zoo actively supports organisations such as Bird Watch Ireland which is fighting to protect the barn owl and we help protect lapwing chicks in the Irish countryside.
All monies generated by Dublin Zoo go directly back into ensuring the continuous development of the Zoo. Dublin Zoo does not exist to generate a profit, it is a not for profit organisation. Through very careful financial management Dublin Zoo undertakes one large capital works project each winter. The Sea Lion Cove, Orangutan Forest and Zoorassic World are good examples.
Dublin Zoo has transformed beyond recognition in the last decade and we are very proud of the work that has been done to make Dublin Zoo one of the best in the world.
We intend to continue to be our own toughest critics, constantly assessing and evaluating our standards and increasing our support for the protection of the worlds wildlife.
By Leo Oosterweghel, Director of Dublin Zoo