Posted In Conservation | 16th November 2022
Elephants at Dublin Zoo: Conservation, Research and Management
Wildlife Trust of India
Right of Passage: Wildlife Corridors Project
Summary:
In 2022, Dublin Zoo began partnering with the Wildlife Trust of India (WTI) to help conserve and protect Asian elephants in the wild. WTI is a registered charity and works to conserve wildlife and its habitat in partnership with the Government of India, state governments, and the local communities most impacted by wildlife.
Dublin Zoo supports WTI as part of their National Elephant Corridors project, called Right of Passage. You can read more about the partnership here. Unfortunately most elephants in India today live in small, isolated habitat fragments. These fragments are often surrounded by, or even include, local human communities and areas of human use, which can result in human-wildlife conflict. In the wild elephants need to be able to move freely between different habitats as the availability of food and water changes seasonally, and to maintain genetic flow in the population. Some of these existing habitat fragments are connected to each other by narrow natural habitat linkages, called corridors. These corridors allow elephants to move between secure habitats without encroaching upon human populations and neighbouring communities.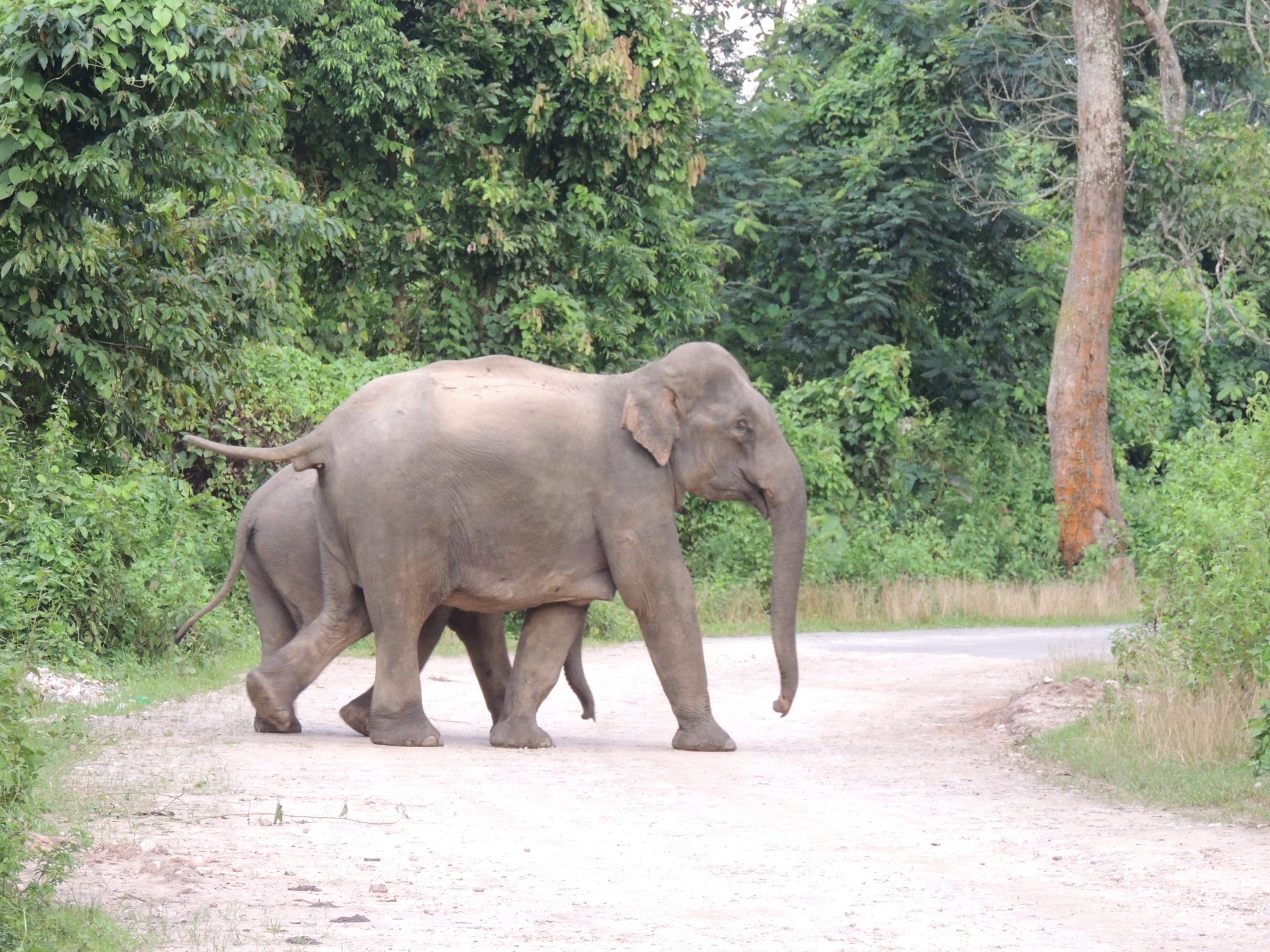 Elephant crossing KD Corridor July 2016 (Photo credit Sandeep Tiwari)
These corridors are crucial for the future of elephants in India, but they are often not protected and are vulnerable to human encroachment. In response to this, WTI has been working for over two decades to identify and protect elephant corridors all over India, while simultaneously working with local communities to improve their livelihoods and promote sustainable human-wildlife co-existence. As part of this project, WTI has identified 101 elephant corridors, six of which have already been secured for elephants. WTI is committed to securing more elephant corridors and is involved in political advocacy with national and state governments to allocate resources for further corridor securement.
WTI has also developed a network of Green Corridor Champions across India. Green Corridor Champions are local community stakeholders who ensure that every corridor is continually monitored and that local communities are educated on the importance of elephants and the corridors. This engagement helps to create a sense of ownership and responsibility among local communities and is helping to secure a sustainable future for elephants in India.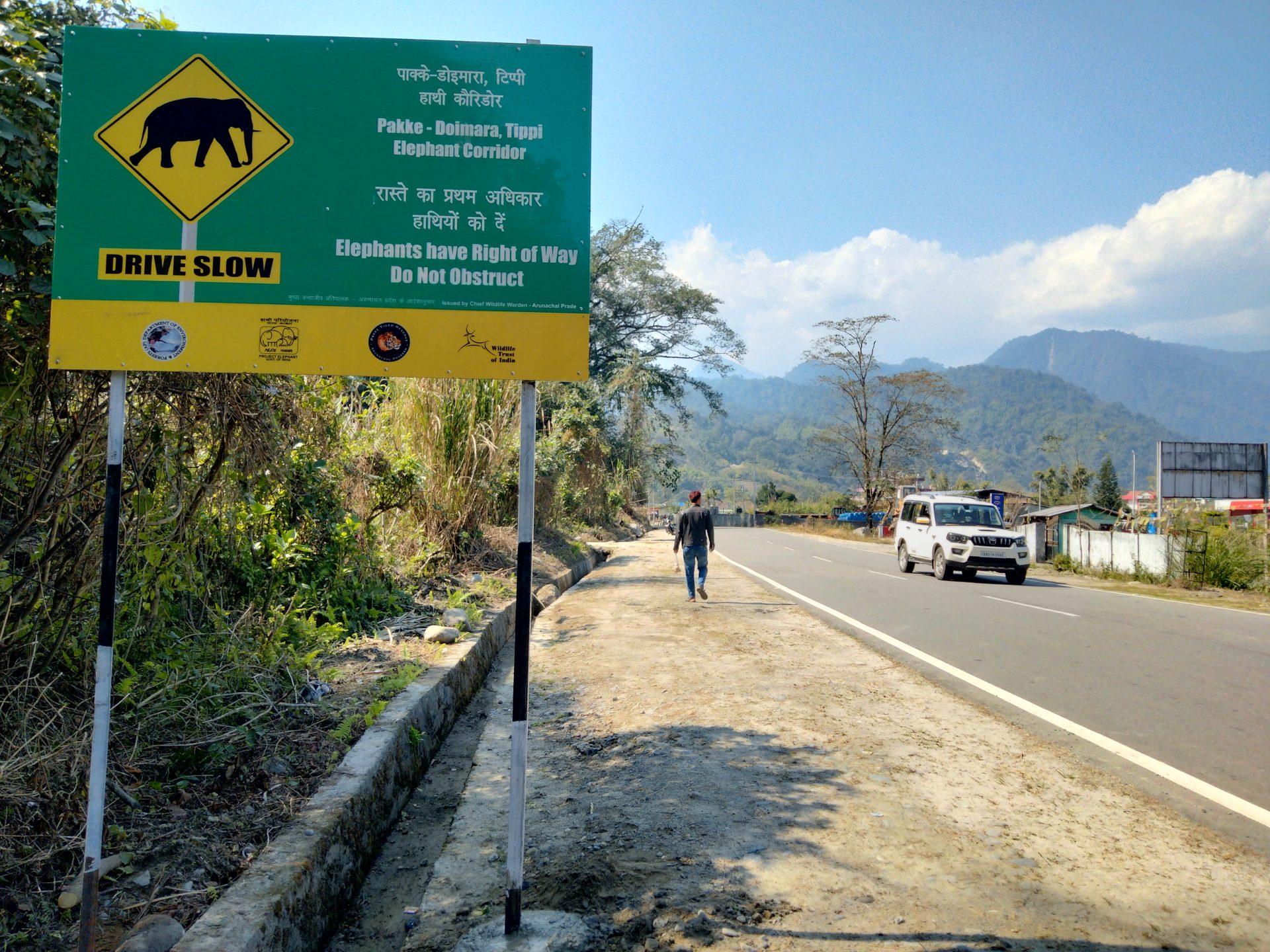 Tippi corridor in Arunachal Pradesh, Northeast India (Photo credit WTI)
"We are thankful to Dublin Zoo for their support towards WTI's Right of Passage project, which aims to provide safe passage to Asian elephants through their identified corridors in India while simultaneously strengthening human-elephant coexistence. The contribution from Dublin Zoo will be used to support the installation of signboards in select priority corridors. These signboards will inform relevant stakeholders on the location of these corridors for any decision-making purposes, in addition to informing the general public and vehicle commuters to be cautious while passing through a corridor, educating people on the importance of corridors and their links to the wider landscape." Upasana Ganguly, Manager and Head of the Right of Passage: Wildlife Corridors Project
Elephant report
Dublin Zoo is extremely privileged to care for a family of Asian elephants, and together with our partners in the British and Irish Association of Zoos and Aquariums (BIAZA), and the European Association of Zoos and Aquaria (EAZA), we are contributing directly to elephant conservation, both in zoos and in the wild. We participate in, and instigate, innovative research to help us better understand the elephants in our care and their needs, allowing us to underpin all of our management practices and conservation actions with evidence and science. Working with the EAZA Asian elephant Ex Situ Programme (EEP), we are helping to create a healthy and sustainable population of Asian elephants in European zoos. Through our conservation partners, such as the Wildlife Trust of India, Dublin Zoo is also helping to secure habitats for Asian elephants in the wild, directly conserving and improving the lives of wild elephants and the communities living alongside them.
Dublin Zoo's elephant programme has attracted the interest of zoo professionals from all over the world and has allowed us to successfully breed Asian elephants for the first time in Ireland. We have now successfully bred two generations of Asian elephants at Dublin Zoo, making a substantial contribution to the conservation of this iconic species. To learn more about the elephants at Dublin Zoo, and what we are doing to conserve elephants in the wild, please see our new report: "Elephants at Dublin Zoo: Conservation, Research and Management", here, or click the image below.