Dublin Zoo's 190 Year Anniversary | Vote
Dublin Zoo is turning 190 year's old this year and we want you to help us celebrate by choosing your favourite moment from our 190-year history!
This draw has now finished.  After over 2,000 entries, the votes have been counted and we can officially reveal that the winning moment is… the 'Save Dublin Zoo' campaign!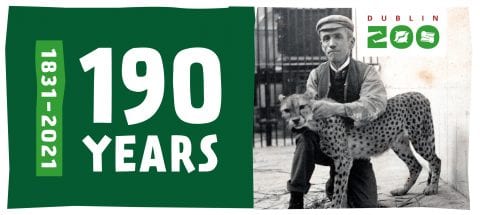 Images reproduced with the permission of TCD and the National Library of Ireland.
We have shortlisted 10 wonderful moments from our history for you to choose from. Simply choose your favourite moment from the list below and click submit to enter our competition to win a Family Day Pass to visit Dublin Zoo!*
* T&Cs apply
The long history of Dublin Zoo was put on record in 2009 for the first time with the publication of Dublin Zoo: an illustrated history. The new edition released last year brings the history of Dublin Zoo to life, from its modest beginnings on a four-hectare plot, to today's Zoo of 70 hectares and includes a wide range of archive photography, interviews, new material and recent milestones such as the opening of many new world-renowned habitats and education centres.
Click here to purchase your copy of the New Edition of Dublin Zoo: An illustrated history to learn more about Dublin Zoo's history!