Volunteering at Dublin Zoo
Are you an animal enthusiast? Would you like to learn more about animals, nature and conservation?
If the answer is yes, then the Dublin Zoo volunteering programme may be for you!
Volunteering at Dublin Zoo
Are you an animal enthusiast? Would you like to learn more about animals, nature and conservation?
If the answer is yes, then the Dublin Zoo volunteering programme may be for you!
Would you like to meet new people and work as part of a dynamic team of like minded volunteers all working together to assist Dublin Zoo in its work?
Dublin Zoo's volunteers are a vital component of the zoo team and help to promote the zoo and its conservation and education programmes. Our volunteers help to educate our visitors about the zoo's animals and environmental/conservation issues through assisting with tours, workshops, events, and out and about interacting.
As a Dublin Zoo volunteer you will receive comprehensive training with our team leaders, a free uniform, regular updates on 'ZOONOOZ', zoo social events and other special events such as lectures and zoo themed trips plus, the opportunity of a great learning experience.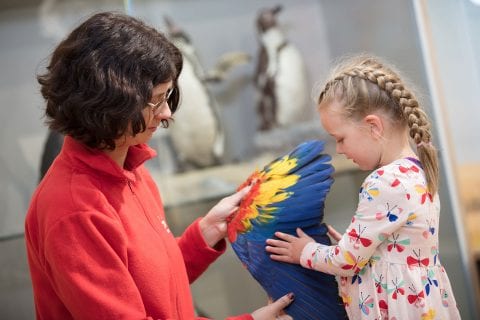 Discovery and Learning Centre: a volunteer led centre, this interactive learning zone uses biofacts such as skulls, furs, insects and plants to engage our visitors.
Guided Tours: taking groups of all ages around the zoo, informing visitors about the zoo's wonderful collection of animals and plants.
Animal Ambassadors: Volunteers take an active role at assigned habitats engaging with visitors to promote the animal, its special features it's conservation threats and opportunities.
Discovery Carts and Touch Tables: Volunteers operate our themed Discovery Carts and set up learning stations around the site using zoo artefacts and interactive games.
Visitor Events: Volunteers assist with our fun and educational seasonal visitor events, activities and themed animal weekends.
Education Resources: volunteers create and design educational and interactive resources to use at visitor events and animal themed weekends.
Animal Watch or Research Assist: Volunteers assist the animal care team with observational studies or data collection to aid them in their care work of Dublin Zoo species. [These opportunities can vary in frequency dependant on requirements]
Teaching Team Assistant: Volunteers work closely with the Discovery & Learning teaching team to assist them with their work on the many formal and informal programmes that the department offers. Volunteers support our work involving learners from pre-school to third level.
Administration: Assisting the Discovery and Learning team with a variety of administrative tasks.
Summer Camp Assistants : Short term opportunities are available in the summer months, July & August assisting solely on our fun educational camps. Working alongside our professional educators.
How to become a volunteer
We receive high numbers of applicants and thank you in advance for your patience with the process. All applicants will be contacted in due course by email as to the status of their application. Please check your spam folder for correspondence as on occasion email servers have directed them to this folder.
Applications are now OPEN for Summer Camp Assistant Volunteers.
Working alongside professional educators this is a unique opportunity to experience fun, educational, animal themed activities in Ireland's largest living classroom! Our camps are for 6–12 year olds, based in venues throughout the zoo.
[NOTE: there is no direct animal contact involved in the camps]
Successful applicants will have enthusiasm, energy, a passion for wildlife and a keen interest or background in working with young people. Experience is not essential and training is provided. Minimum volunteering requirement is for 2 weeks. To apply fill in the form below.
Closing date Friday June 16th 2023
Programme Requirements
All volunteers with Dublin Zoo must be over 18 years of age.
Garda Vetting is a requirement for all volunteers accepted to our programme. (We will assist you with the Garda vetting process).
Please Note:
Volunteers do not work directly with the animal care teams nor are they involved in any hands-on animal care work or habitat maintenance.
Apply now for Summer Camp Assistant role – Closing date Friday June 16th