Posted In Visitors | 16th December 2019
Short Story Competition
Wild Lights Short Story Competition
Dublin Zoo partnered with The Irish Independent to give budding young writers the chance to win family tickets to Wild Lights, annual passes to Dublin Zoo and some goodie bags.
There were two age categories (Age 6-9 and Age 10-13), and with the help of their parent or guardian, entrants had to send in a short story or nursery rhyme, no more than 200 words, to tie in with this year's Wild Lights theme – Stories, Myths and Legends.
With lots of wonderful and magical entrants from children all over the country, one winner and two runners up were chosen for each age category.
Without further delay, below are the stories and nursery rhymes from this year's winners and runners up.
Category Age 10-13
WINNER
Katelyn Walsh – Galway
RUNNER UP
Vanessa O'Brien – Dublin
Id like to see the lights this year.
If I was chosen, I would cheer
I grew up with a book at hand,
To see them that will so be grand.
Waiting in line, for hours on end,
the lights will be so fine again.
The elephant trumpets, the lion's roar,
I'm so desperate to walk through that door.
I read about them, just inches tall,
Now the size of a shopping mall.
Dorothy and Toto are waiting for me,
Alice and Oisin bleeming with glee.
Jack climbs down just to meet me,
While Peter frantically runs from Smee.
Just then Tiana ran frantically by,
Trying to kiss her frog goodbye.
While the owl and the cat were talking marriage, love and joy,
Just thinking of all my favourite characters as a toy.
Word was out that Little Bo Beep lost her sheep,
In a forest so deep and steep.
Then Oisin the warrior trudged on through,
In a land so old nothing was new.
While Michael D lies down to reads his bed time story,
I'm swamped deep in myths, legends and glory.
Thanks Dublin Zoo, for everything you do,
I hope to see you very soon.
RUNNER UP
Clodagh Dorgan – Cork
Do you believe in magic? Because I do. After visiting the Wildlights, that night I fell into a deep sleep. I had a dream, that I was back at the Wild Lights Park. Tinker Bell and Peter Pan were waiting for me, when I arrived. Tinker Bell sprinkled fairy dust over me, to make me fly and see the Wildlights from the sky. We flew through the sky and saw Alice in Wonderland, The Mad Hatter and White Rabbit. They were having a Tea party, but we didn't want to interrupt, so we kept whizzing through the air. Next we saw Dorothy, The Tin Man and the Scarecrow having a walk on the Yellow Brick Road. There was so much to see, but I can't tell you anymore because it's a magical place. And if you want to experience some magic, you will have to go and see the Wildlights for yourself. Do you believe me? Probably not, but I will give you proof. When I woke up the following morning there was Fairy dust all over my pillow and a VIP Pass tucked under my pillow. It said "Return anytime"
The End.
Category Age 6-9
WINNER
Shannen Elliott Thompson – Meath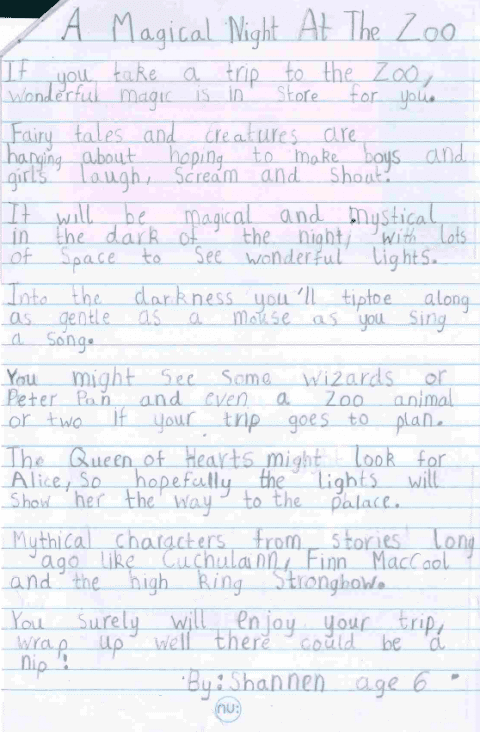 RUNNER UP
Patricia Mealiffe – Donegal
Like Dorothy, we will follow the yellow brick road,
And enter the world of legendary Wild Lights,
Through the zoo of colours and sparkles,
The magical wonder of the world at night.
Through trees, we'll spot Little Riding Hood,
her cloak lit up in red,
Next the three little bears will appear,
with Goldilocks snuggled in their bed.
Dorothy's shoes will twinkle,
To light the way for her friends,
While Oisín returns from Tír na nÓg,
when his years of youth come to an end.
To the end of the rainbow we'll venture,
Passing by the cat and the fiddle,
As the White Rabbit tries to keep time,
And the prince tries to solve the shoe riddle!
I'd love to meet Alice & Dorothy,
And visit the Children of Lir,
And stop Humpty Dumpty fall off his wall,
At this most wonderful time of the year.
RUNNER UP
Ellen Butler – Kilkenny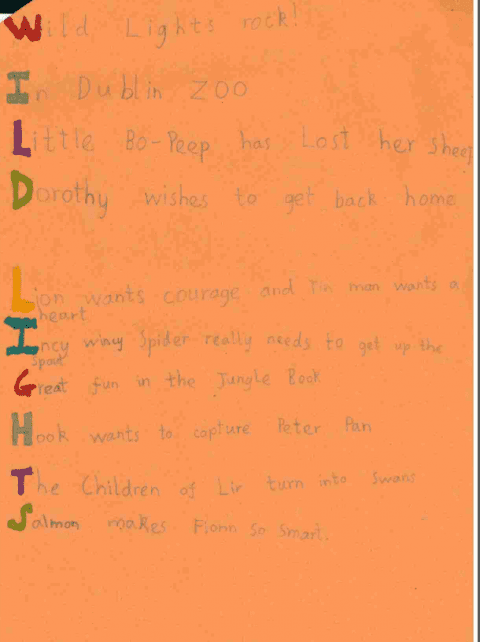 Thank you to everyone who entered!