Posted In Visitors | 9th September 2022
Red Panda Sculpture Unveiled
A new red panda sculpture has been unveiled to showcase Dublin Zoo's gratitude to all supporters of the 'Save Dublin Zoo' campaign, without which Dublin Zoo faced potential closure.
To thank the public for their support, Dublin Zoo is offering visitors 50% off tickets on Saturday 17th and Sunday 18th September by booking online at www.dublinzoo.ie *
*This half price offer is only applicable for tickets booked online. Half-price ticket offer applies to adult, child and family tickets only, groups and concessions are not included. Read more about the offer here.
The red panda sculptor Stephanie Hess was born to Irish parents in Singapore, and has lived widely throughout Europe, Canada, the United States and South Africa before coming to live in Ireland in 2014. Currently a Dublin-based award-winning sculptor, Stephanie was commissioned to create a sculpture of the red panda due to her love and years of experience with bronze casting. Stephanie's distinctive patinas play an integral part in conveying the characters of her stylised animals brimming with whimsy, playfulness, humour and tenderness.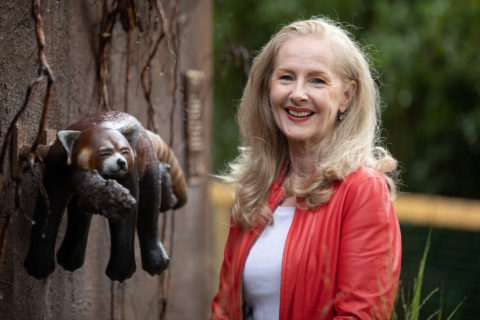 Stephanie Hess with the red panda sculpture
Check out Stephanie's process to create the red panda sculpture below:
The branch that was the perfect base to plan the sculpture

After the basic shape is blocked out with polystyrene and newspaper, the clay goes on.

The clay process is complete and the sculpture is ready to be moulded.

Several layers of silicone are painted over the sculpture.

Once the silicone sets, plaster is painted over it.

The mould is carefully removed from the sculpture. Melted wax is brushed onto both sides of the mould, which is then joined together and sealed by pouring hot wax through an opening. The excess wax is poured out. When the wax cools, there is a hollow copy of the sculpture which is refined by using wax, sandpaper and white spirits.

The wax is cut in half and wax sprues have been added. A polystyrene cup is attached to the top of these to form what will be channels for pouring the bronze. The wax is dipped in a liquid ceramic mixture, rolled in silicone sand then allowed to dry. This is repeated several times. When ready, it is fired in a kiln to strengthen it. The wax melts out leaving a hollow ceramic shell.

Molten bronze is poured into the shell

Once the bronze has cooled the shell is removed.

The sprue bars are cut off and any necessary welding is done.

Support fixings are added. All final welding and metalwork is done and the piece is sandblasted in preparation for patination.


Patination – the colour goes on! The metal is heated and chemicals and pigments are applied to achieve the desired effect.

Many coats of wax are applied to protect the patina.

All settled in.