Posted In Visitors | 11th May 2021
Click and Collect NOW AVAILABLE! 
Click and collect your favourite zoovenirs after your visit!
Click and collect services have been suspended until further notice. 
Simply log onto our online Zootique choose which items you would like to take home with you by putting them in your basket and when you're ready to check out choose the 'Click and Collect' option at payment.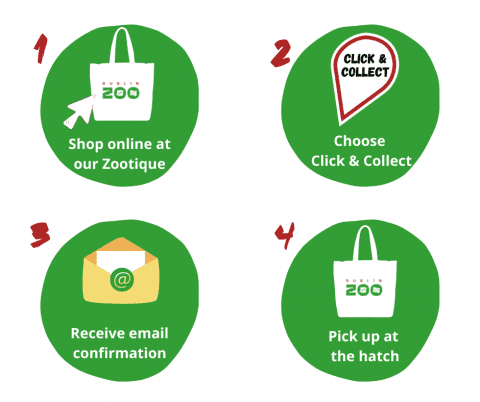 Please present your order confirmation email at the Gift Shop which can be found at the end of the one-way trail, past the toilets.

You can still click and collect from the Dublin Zoo gift shop if you are not visiting the Zoo. Simply present your order confirmation at the front gate and the retail team will retrieve your order.

Please allow at least 30 mins after making your order before you arrive at the Gift Shop to collect your item.
You can only collect your items during our opening hours between 9.30am and 5.30pm. This may change depending on the time of year, and the day of the week. Click here for the latest information on opening times.
You cannot exchange any of your items purchased or add any items to your order when you are collecting.
Once your 'Click and Collect' order is placed you cannot switch to delivery service.
If you have any queries about your order or would like to amend or add to it please email retail@dublinzoo.ie