Posted In Events | 24th May 2021
Dublin Zoo celebrates 190 years since first opening its doors
Anniversary comes months after successful Save Dublin Zoo campaign
Dublin Zoo is delighted to celebrate a milestone year, as the not-for-profit organisation marks its 190th anniversary.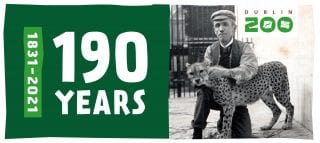 Images reproduced with the permission of TCD and the National Library of Ireland.
Since its opening in 1831 with a small collection of animals, Dublin Zoo has now become one of the world's leading zoos and a world-class centre for conservation.
The Zoo has a long and fascinating history which has many significant milestones including how it became 'the people's Zoo' when admission prices dropped to a solitary penny on Sundays in 1840 to surviving the Easter Rising in 1916, as well as witnessing the birth of so many endangered animals along the way.
Dublin Zoo is a cherished Irish institution and a trip to the Zoo is a childhood memory many generations of Irish people will remember fondly. Today, Dublin Zoo still remains a place that brings family and friends together, in an environment where they can learn about conservation and some of the World's most endangered wildlife.
To celebrate our 190th anniversary this year we asked you to choose your favourite moment from Dublin Zoo's 190-year history! After over 2,000 entries, the votes have been counted and we can officially reveal that the winning moment is… the 'Save Dublin Zoo' campaign!