Posted In Visitors | 10th January 2018
2017 was a Zooper Year at Dublin Zoo!
Visitor numbers exceed the one million mark for the seventh year running
2017 was another busy year for Dublin Zoo.  Over the course of the twelve-month period, Dublin Zoo welcomed 1,108,728 visitors through its gates. Exceeding the one million mark for the seventh year running, the 2017 footfall figure confirms Dublin Zoo as Ireland's most popular family attraction.
Launched to the public in November 2017, an additional 155,572 people also attended the hugely popular Wild Lights at Dublin Zoo, a spectacular night-time event featuring giant colourful lanterns and illuminated sculptures inspired by wildlife.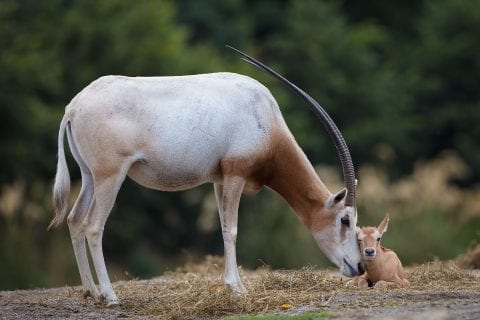 In 2017, Dublin Zoo celebrated the arrival of 40 new additions to its wildlife family, including the birth of a southern white rhinoceros calf, two Asian elephant calves, an eastern bongo and no less than three scimitar-horned oryx! Last year also saw the opening of Zoorassic World, the Zoo's new home for reptiles past and present which features Stan, a life-size replica fossil of a Tyrannosaurus rex that lived 65 million years ago.
Commenting on the successful year, Leo Oosterweghel, Director at Dublin Zoo, said;
"2017 was a truly remarkable year for all of us here at Dublin Zoo. We were delighted to welcome a total of 40 new animals to Dublin Zoo, including the birth of three scimitar-horned oryx – a species classified as extinct in the wild.  
Dublin Zoo is a not-for-profit organisation. We are continuously reinvesting in the Zoo, building world-class habitats that closely reflect the animals' natural environments. Last year we also introduced new, innovative events which proved to be an enormous success. We are committed to offering an educational and memorable day out to all our visitors be they families, couples or groups and look forward to an exciting year ahead."
Dublin Zoo, a not-for-profit organisation, is open seven days a week from 9.30am.