Posted In Education | 7th September 2022
BIAZA Award winning Discovery and Learning Team
The Discovery and Learning team at Dublin Zoo were the proud winners of three awards in this year's British and Irish Zoo and Aquarium (BIAZA) Awards held at Dublin Zoo this summer. In conjunction with Galway Atlantaquarium and Tayto Park, the education teams' collaborative project with the Junior Cycle for Teachers (JCT), a Dept. of Education and Skills school support service won the Gold Education award for their project titled, 'Virtual National STEAM Collaboration – working creatively to promote BIAZA Conservation to Junior Cycle Teachers during the pandemic'. 
The BIAZA and JCT partnership which has been running since 2017 also won the BIAZA Outstanding Achievement Award for The national STEM project delivered collaboratively from Irish BIAZA Education departments. Fota Wildlife Park, Secret Valley and Dingle Aquarium have also been involved in this strong collaboration.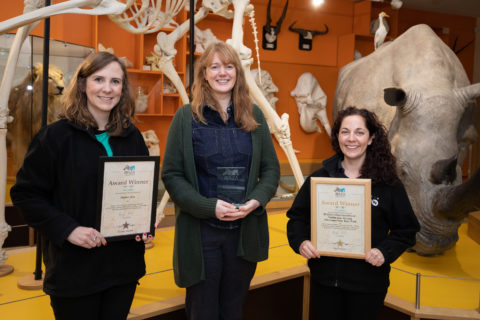 Niamh Potter, Aileen Tennant, Kelly Mara
Aileen Tennant, Head of Discovery and Learning at Dublin Zoo commented, 'being involved in initiatives which look to provide solutions for the future of wildlife and the planet is not only rewarding but very necessary in today's world. Working in collaboration with our peers in other zoos and aquaria help to further our purpose to save wildlife and provide the skills to teachers to support us in this mission. We are very grateful for the engagement from so many passionate teachers that participated in our workshops over the years.' 
The Dublin Zoo Team also took home the Bronze awards for their involvement in the design of the virtual SSE Airtricity Eco Explorers Club which rolled out virtually in 2021 and 2022.  
The Discovery and Learning Team look forward to the continued work with our JCT partners and sponsors SSE Airtricity to continue to bring the work of a conservationist to more audiences.